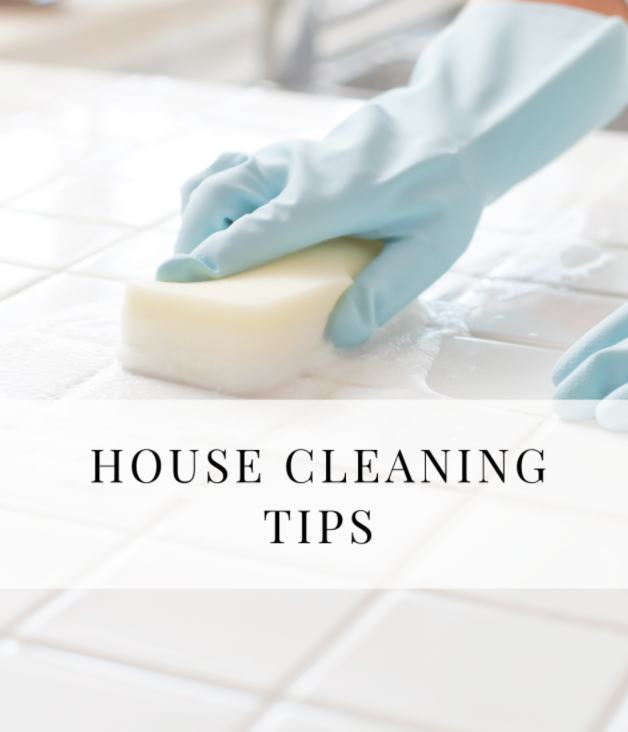 I've compiled a list of house cleaning tips when selling your home!
Your deep cleaning checklist will help you learn how to clean your house to sell. It will help you to ensure that you don't forget anything and, importantly, that you pay attention to those items that can be overlooked. If you're ready to clean your home, you'll want to start with the big things before you get to the little things.
✔️ The big things
A big part of learning how to clean your house to sell is knowing what the most important parts of your home to clean might be. These are the places and things in your home that are easiest for prospective buyers to spot. If they're dirty, you can lose a sale. As such, you'll want to pay special attention to cleaning the following areas. 
✔️ The fridge, dishwasher, and oven
These are bigger than you think. While you might be used to how your appliances look and smell, new buyers are going to view them with fresh eyes. You'll want to make sure they are all cleaned inside and out. There are special products for cleaning out ovens and dishwashers, so invest in those. Make sure that your fridge is emptied and that you've cleaned out every shelf and drawer. Put in some extra effort to make sure that each of these major appliances shines.
✔️ The bathtubs, sinks, and toilets
You already know that these are high-traffic areas, so make sure to take care of them appropriately. You'll need to spend some serious time scrubbing here, removing every stain and bit of stray dirt. Make sure to pay extra attention to both the sinks and bathtubs, as they're very easy for even casual observers to look into. These are areas in which a little extra effort can go a long way. Empty the garbage cans, no one wants to see trash when viewing a home.
✔️ Glass and mirrors
The goal here is to eliminate all of the streaks and smudges that you can find. Use a good glass cleaner and make sure to leave any glass surfaces as clear as possible. Good mirrors help to make rooms look larger, so you'll want to make sure that they are clean and that they reflect the light well. Glass also needs to be dusted, as the dust particles can make your entire house look a little bit dingier than it should.
✔️ Walls and counters
Your walls and counters have a few different issues that need to be addressed. First and foremost are the basic marks that have accumulated over the years – a good scrubbing should get rid of most, but don't be afraid to invest in a special cleaner if you can't get them out. More pressing is any damage to the walls or counters, which might need to be fixed with either new paint or even putty. Make sure that these areas look as close to new as possible.
✔️ Floors and baseboards
Your floors are the easiest area to see in your home. If they're not properly cleaned, the rest of your home will look incredibly dirty. Take the time to clean any carpets and use cleaners that you might have on your hardwood floors. You may also need to invest in methods to clean up scratches in some areas. Your baseboards should also be vacuumed and then cleaned by hand in order to get the best results.
✔️ The little things
In addition to the big items, figuring out how to clean your house to sell requires being able to identify the most important little things in your house. These items might not seem like they'd cause problems, but they're things at which most serious buyers will look before they put in an offer on a home.
✔️ Light fixtures
All of your light fixtures need to be deep cleaned before you move out. This is a multi-part task, so be prepared to put in a little work. Start by removing the lightbulbs so that you can replace if necessary. Next, you'll want to clean out the inside and outside of the fixtures with a microfiber cloth. Finally, finish by removing any stains and using glass cleaner if necessary. Once you're done, you can replace the bulbs and you should have not only cleaner fixtures but also much brighter lights.
✔️ Switch plates
Your switch plates tend to accumulate a lot of wear and tear over time. Not only are you constantly switching lights on and off, but you're also constantly touching the plates without noticing what's on your hands. It's very important to examine each individual plate in order to determine exactly how much work you'll need to do. Disinfectant wipes will help with most, but you may need to replace those that are scratched up. Don't be afraid to remove the plates in order to make sure that they are clean, as there can often be a fair bit of build-up around the edges of the plates.
✔️ Vents and fan blades
When was the last time you really looked at your vents and fan blades? You might have done a bit of dusting from time to time, but these are areas of the home that tend to get neglected. You're going to want to remove your vent covers and clean them both inside and out, getting rid of any accumulated dust. If possible, you should also remove each individual fan blade and wipe it down. Make sure that you clean the parts that are generally covered by any lighting fixtures as well so that you can really make the fan shine.
✔️ Hardware
Much like your switch plates, your home's hardware gets a lot of wear and tear that you probably haven't noticed over the years. At a basic level, you're looking to get rid of fingerprints and the kind of random dirt that accumulates over the years. If your hardware is metal, though, you're going to want to use metal cleaner in order to restore it to its original look. You're not just dealing with wear and tear here, but very real environmental damage. You'll need to use a little elbow grease to get the best results and make the hardware look pristine.
✔️ Windowsills 
Your windowsills are another area that tends to attract quite a bit of dirt and grime. Unfortunately, most people tend to clean these areas with a light dusting, trusting that most visitors won't give them a second glance. When buyers come to your home, though, they'll use your windowsill as a test to see how well you have actually cleaned your home. It's recommended that you don't just dust these areas, but that wipe them down and remove any stains. If possible, you may also want to give them a quick coat of paint in order to make them look like new.
🧹 Seems like a lot of work doesn't it? If you don't have time to get to it yourself, I have a list of professional house cleaners that range from $25-$35/hour to get the job done! 
Otherwise, happy cleaning 🙂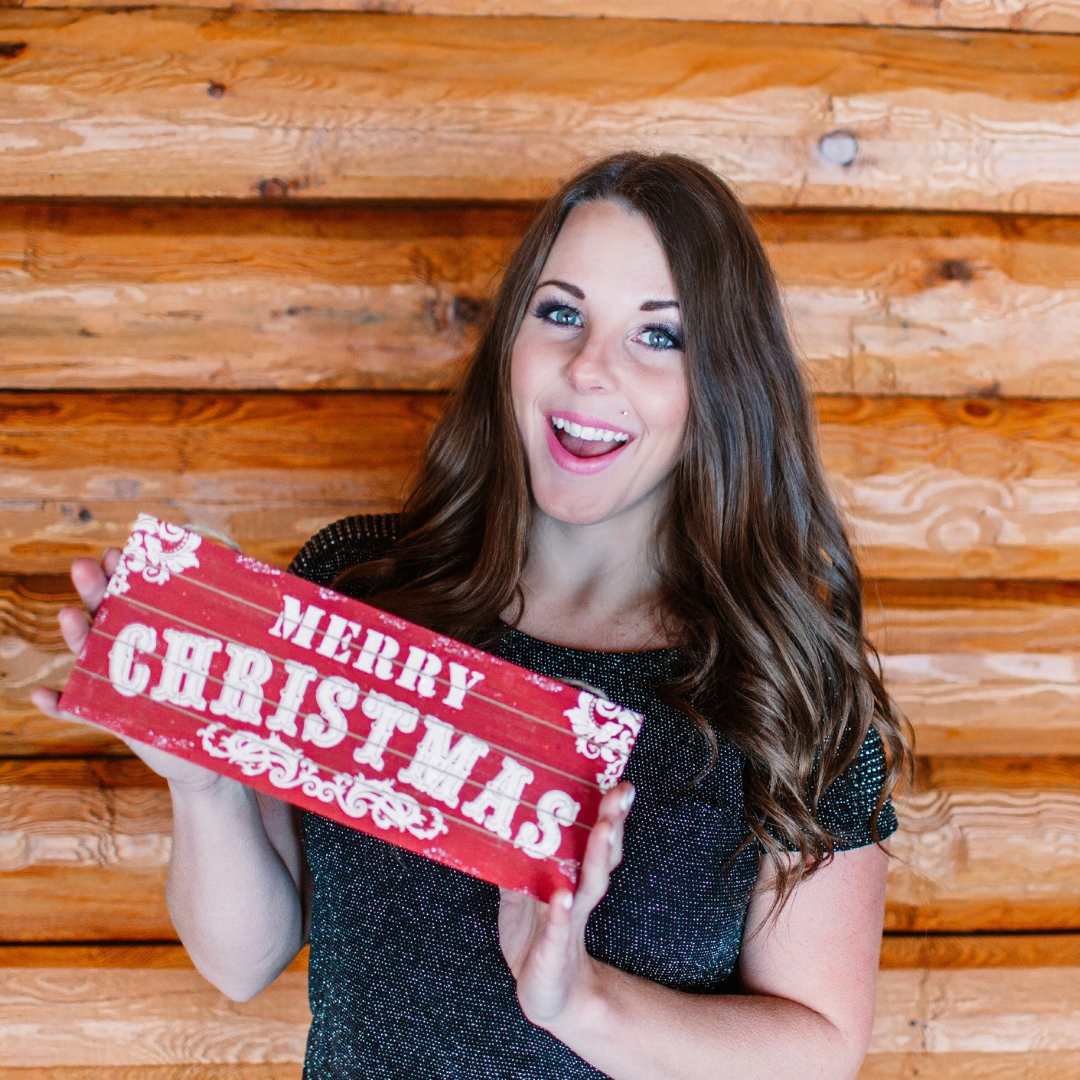 Wishing Happy Holidays to you and your family!
Hold your loved ones close, enjoy love and laughter, and be grateful for all you have and the fact that you don't live in a Gingerbread house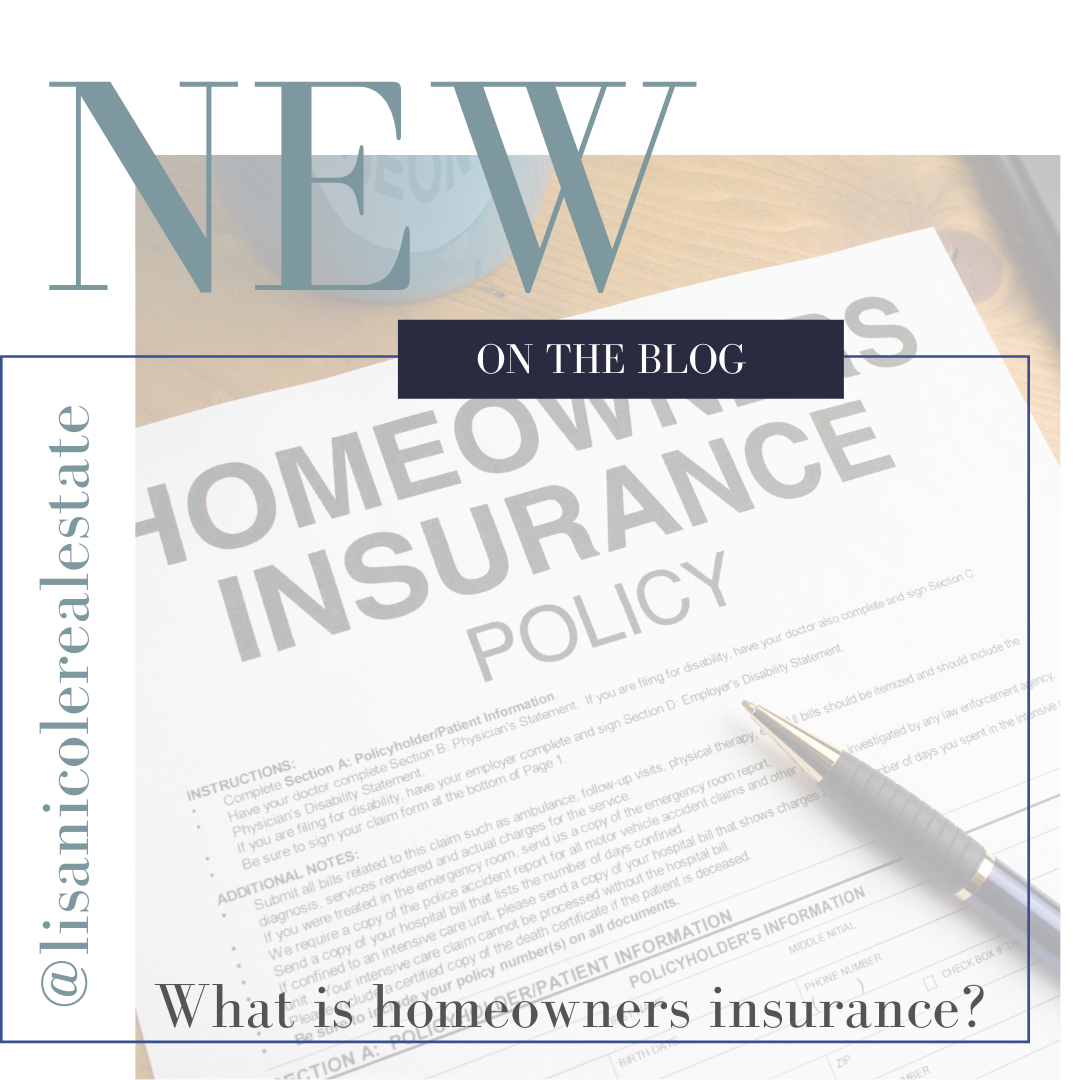 What is homeowner's insurance?
Homeowners insurance provides coverage to repair or rebuild your home after events like fire, smoke, theft, vandalism, a falling tree, or damage caused by weather such as lightning, wind, or hail. Most standard homeowner's insurance policies also cover furniture, clothing, and other possessions. In addition, they cover medical expenses and legal fees if people other than you, your family, or anyone else not living in your home is injured on your property. The same guidelines generally apply to renter's insurance, as well as policies for condo and mobile homeowners. 
Most standard policies will also provide coverage for outbuildings on your property, such as a garage, barn, or shed, along with outdoor grills or fireplaces, swing sets, walls, and fences. A swimming pool or other recreational equipment may also be included, but higher-risk items such as these may require additional coverage. 
Additional items that may not be included in a standard policy are artwork, jewelry, or other collectibles that are worth more than standard coverage allowances. This is one reason it's important to read and understand the limits of any policy you're considering and purchase additional coverage when necessary.
Most standard home insurance policies don't include earthquake and flood coverage. These types of coverage are generally available at extra cost, but all insurers may not offer them in all areas.
Depending on your occupation, interests, and circumstances, you may want to consider optional coverage for home office, specialized equipment or musical instruments, or high-end audio, video, or computer systems. Identity theft, or data loss coverage is also an option. 
To determine whether you need additional coverage beyond what's included in a standard homeowners insurance policy, start with the most obvious factors. If you live in or are thinking about buying a home in an area prone to earthquakes, wildfires, or extreme weather, look for a policy that covers those events.
Next, think about what it would cost to replace major items such as a furnace, a water heater, a roof, or even your entire home. Talk to an independent insurance agent, call insurance companies directly, and check company websites for guidelines. Take an inventory of your possessions, including your vehicles, artwork, and other valuables. Consider what it might cost to live with relatives, in a hotel, or in a rental unit while your home is being repaired or rebuilt.
A basic rule of thumb is to make sure you buy enough coverage to replace your home and its contents, as well as to cover additional living expenses if you must move out. Be honest in your assessments and make sure that any policy you consider is sufficient.
What are the Types of Homeowners Insurance?
There are two basic types of homeowners insurance: actual cash value policies and replacement cost policies. An actual cash value policy factors in depreciation and inflation, meaning that reimbursement for appliances and upgrades made to a kitchen ten years ago, for example, would be paid at some percentage of their original cost. A replacement cost policy ensures that items are replaced with comparable new ones without accounting for depreciation or inflation. 
An actual cash value policy could leave you short of funds to rebuild your home in the event of a total loss. Many factors are at play here, from how long you've owned your home, to fluctuations in property values, to changes in building codes and material and labor costs. 
For example, rising property values could make your home worth several times more than when you bought your policy, with corresponding increases in material and labor costs. Stricter building codes may require additional and more costly materials than those used when your home was originally constructed. In addition, some older homes may have been built using materials and methods that are no longer widely used and are consequently expensive to replicate. Walls of plaster and lath, for instance, require more labor and materials than modern drywall. If you want to recreate your home as it was, you'll have to account for these additional expenses.
For these reasons, every insurance industry expert recommended purchasing a replacement cost policy if you can afford one. 
How Do I Get Homeowners Insurance?
Home insurance is available through a variety of sources, including company websites, toll-free telephone numbers, and independent or dedicated local insurance agents. Major home insurance company websites are a great place to begin your search and generally have a wealth of information about standard and optional coverages. Many also have estimating tools that can give you an idea of what your premiums will be once you enter some basic information about yourself and your home.
While it's a good idea to compare coverage and rates from different companies using these tools, insurance industry recommended doing additional research online. For example, most provincial insurance departments offer websites with useful information, including provincial requirements, licensing regulations, buying advice, and consumer complaints. 
Even with all the resources available online, it's a good idea to work with a local agent or insurance professional. Policy details can be hard to decipher, and getting the right coverage is critical to avoid a costly mistake. Listings include license numbers and expiration dates, so you know the agent is in good standing. 
While an agent can help you navigate policy coverages and exceptions, it's important to do your homework and ask the right questions to make sure your coverage is sufficient. For example, some policies may limit coverage for a toilet overflow if it occurs suddenly or is deemed to be the result of a slow leak caused by poor maintenance. A weather event can present even thornier issues and leave you without the coverage you were expecting.
Is Homeowners Insurance Required?
Homeowners insurance isn't required by law, but that doesn't mean you won't be required to get it. If you plan on financing your home, your lender is most likely going to require homeowner's insurance to protect their investment. In addition, condominium associations or private communities typically require home insurance. 
That said, even if your home is paid off or you paid cash for it, home insurance coverage is a good idea. Most homeowners can't afford to rebuild or make substantial repairs if their home is heavily damaged or destroyed. Even if you have the funds, a homeowners insurance policy costs a lot less than rebuilding out of pocket.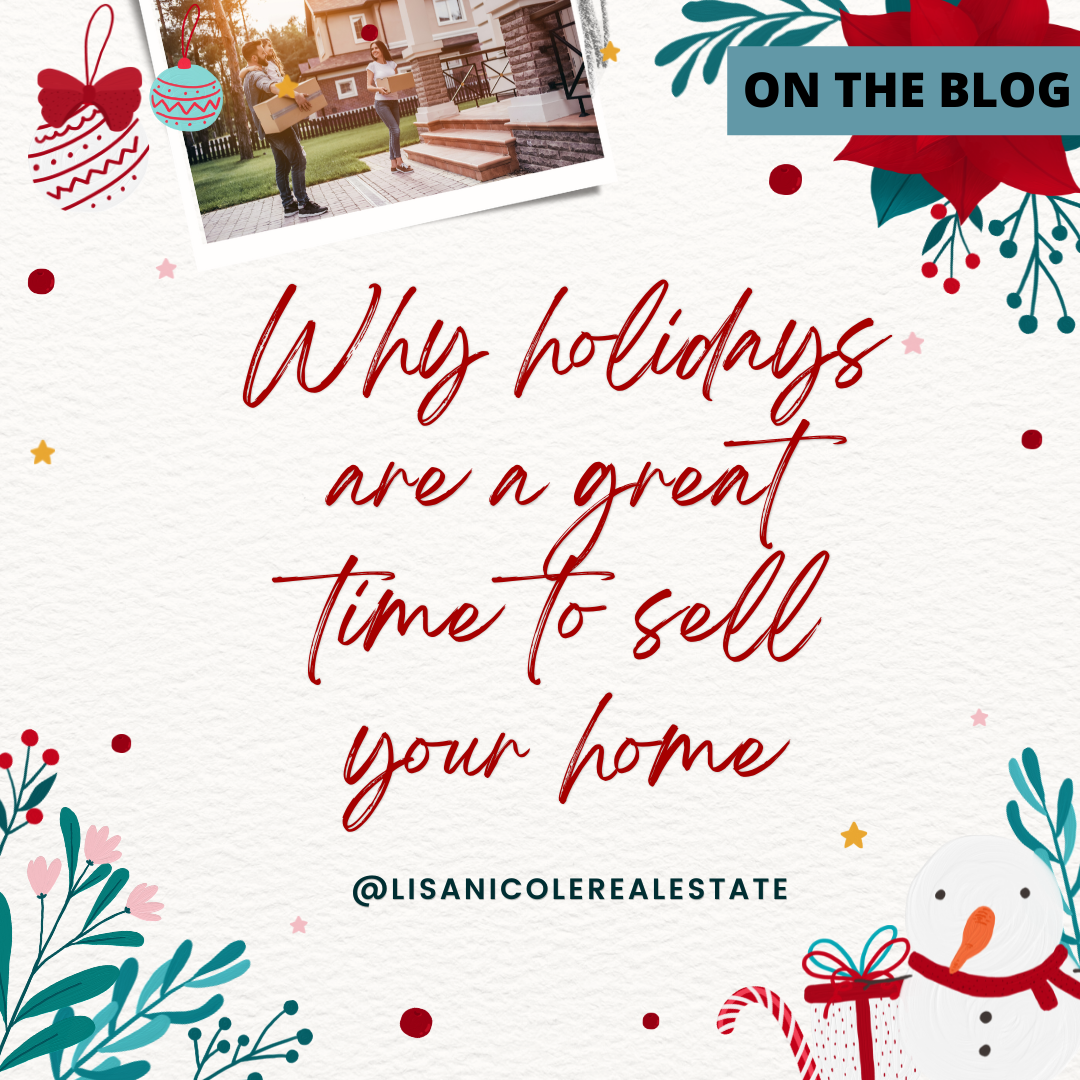 Why holidays are a great time to sell your home!
When it comes to real estate, the ideal time to sell your home often falls in the spring months. After all, many people hunker down during the winter months or are too busy with the holidays to think about purchasing a new home. And don't forget, people like to start shopping in the spring to make sure they are settled in their homes before the start of a new school year.
But what if you can't wait until the weather warms up to get your house on the market? Should you consider putting your house up for sale around the holidays?
It may not seem like the most ideal time, but the holiday season does have its benefits—provided you position your home in just the right way. You might not get in the middle of a bidding war, but you are going to deal with serious buyers who are ready to close a deal. Here are six reasons why the holidays are a good time to sell a house.
1️⃣ There's Less Housing Inventory During Winter 
Conventional wisdom says people should wait until the spring to get the most from a home sale. After all, inventory normally picks up in the spring as the weather gets warmer. This often leads to price wars breaking out in coveted neighbourhoods. A home in a great area with a lot of potential buyers can sit on the market for just a few weeks or, in some cases, even days.
2️⃣ Winter Buyers Are More Serious 
Most open houses take place during the spring and early summer. It isn't unusual to see people saunter into a property without a clear plan to buy. People often check out homes just for the sake of looking. After all, hitting open houses is a favourite pastime for many Americans.
3️⃣ That Warm and Cozy Feeling 
The holidays are often a time when people gather around fireplaces, drink hot chocolate, and bake cakes and cookies. Homeowners who put their houses up for sale during the winter months can stage their house to give off the comfy and homey vibe that appeals to many buyers.
Some people may argue that showing a house in the winter is hard to do because there's snow on the ground, the house is drafty, and the curb appeal is lacking. But turning the heat up, having a yummy treat in the oven, and keeping the sidewalk and driveway clear of snow and ice can boost a home's appeal.
4️⃣ Festive Neighbourhoods Are Inviting 
One of the staples of the holiday months is that many people adorn their homes with festive lights and decorations. That is also true of local communities where lit-up snowflakes and wreaths can be found on lampposts up and down the main streets.
People purchasing a home during that time may see the neighbourhood in a different light—more festive and cheerful—and may be more willing to consider an area that they may have been on the fence about.
5️⃣ Year-End Job Transfers 
Another good reason is timing. The end of the year is typically the time when people get notified, they will be moving because of a job transfer, or perhaps an offer comes through from another company that's just too good to pass up.
Those people are going to need a home sooner rather than later and, as a result, they'll be hunting for a new home during the holidays. These buyers can't wait for spring, which is one reason why listing during the holidays can get the home sold—and sold quickly.
6️⃣ End-of-Year Tax Breaks 
Reducing the property tax bill may not be the main reason buyers purchase a new home, but it could be why serious buyers make a move during the holidays. That's because buyers can deduct the mortgage interest, property taxes, and interest costs of the loan if a sale closes on or before December 31. New tax laws limit the deduction, of course, but the tax benefits could still prompt a buyer to move during the holidays instead of waiting until spring.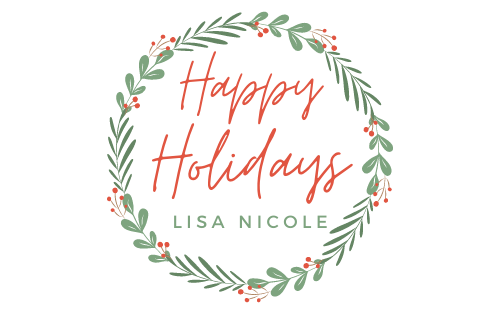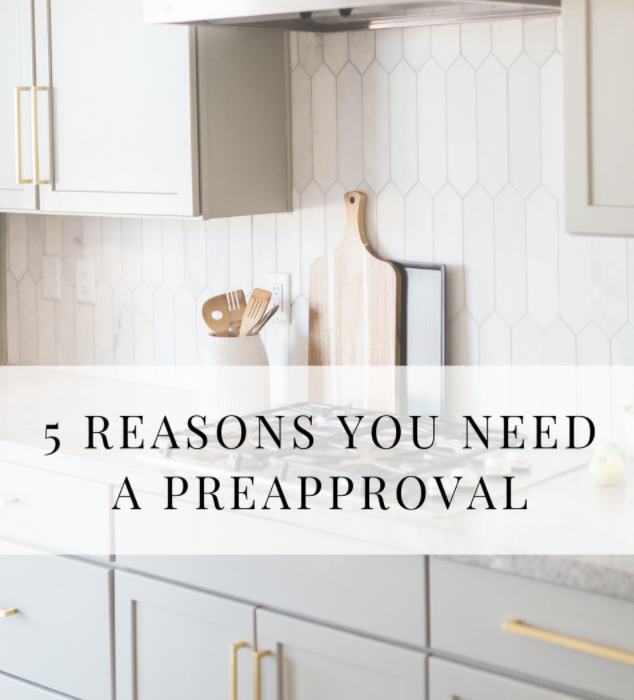 5 Reasons You Need a pre-approval!
One of the first questions an agent is going to ask you when you start your home search is "Have you been pre-approved by a lender?" 
Typically there are three responses that I get to that.
The first one is a blank stare and/or panic – "Whaaaat?"
The second is suspicion – "I don't know really want to do that yet."
And the third is any agent's favorite answer – "Yes!"
It's important to know that your agent isn't trying to trick you – they are trying to help! Here are five important reasons that you need a preapproval before you start your home search.
1️⃣  SET REALISTIC EXPECTATIONS
Getting pre-approved really helps you set and manage your expectations. Searching for your home is so much fun. But here's the thing, just because you feel comfortable buying a $500,000 home doesn't mean that that's what a lender is going to approve you for. So you could be taking a look at these $450k to $500k homes only to be told that you're approved for $250,000. What do you think the odds are that you're going to find something you love in that $250K price range after comparing them to a $500K home? 
 2️⃣ CREATE A CREDIT ACTION PLAN
If credit is an issue, it gives your lender an opportunity to create an action plan to help maximize your purchasing power. Look, I get it. Stuff happens. You get behind on your bills, that old college credit card crept back up again… but unless you actually apply and have a professional looking at your credit, you don't always know what you need to fix and how to fix it. Having a lender pull that information and look at it helps you figure out how you need to move forward to get be able to maximize your purchase power. 
3️⃣ SO YOU CAN SHOP AROUND
In a hot market sellers are getting multiple showings (and offers) in the first 24 hours. Some sellers want to make sure that the buyers that are walking through their home are already pre-approved. If that's the case, your agent isn't going to be able to get you in to see that home if that is a stipulation that the seller requires.
4️⃣ SO YOU CAN JUMP ON YOUR DREAM HOME
There's nothing worse than walking into a home and finding that it is in the perfect location, it has the perfect amount of space, it's the perfect price – everything's perfect, and you're not able to make an offer as soon as possible. 
5️⃣ SO YOU CAN CLOSE QUICKLY
When you are pre-approved, chances are your lender has a variety of paperwork that you had to submit to get that pre-approval. All of that paperwork along with some additional documents that they're going to request is needed to get the underwriting done for your loan. So with that being said, having all of that stuff already submitted to your lender is going to make the process go quicker. Now, why does that matter? Because at the end of the day, time is of the essence. When you have multiple offers, it comes down to conditions and someone who can close within 30 days, looks a lot more attractive as opposed to someone who may take 45+ days to close.
So those are the top five reasons by you really need to make sure to get pre-approved before you start your home search. If you have additional questions about the lending process or getting pre-approved, I have some of the most amazing lenders on speed dial that are able to help answer your questions.
In addition to that, I have a home buyer's guide that has a whole section on lending basics. You can download my FREE home buyers guide HERE.
Happy house hunting!